Sowing Tips: VE-044 F1 MELON GORGEOUS / 网纹日本蜜瓜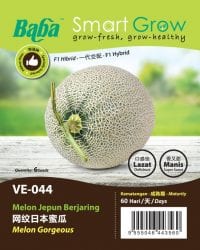 Seed Sowing Guide
Make some small holes on the seedling soil and put in 1 to 2 seed for each hole and then covered with a thin layer of soil. Watering twice a day until after germination.
When the seedling grow 3 to 4 true leaves, may thin out excess seedlings (remove weak seedlings) or transplant, keep the strongest seedling for each hole. Leave 30cm gap for each plant. Use hanging rope to support the growth of vine.
Topdressed with Baba 532 organic foliage fertilizer weekly, when the plants grow bigger, use Baba 426 organic fruiting fertilizer. Put the fertilizer away from plant with 10 to 15cm gap, cover with soil. Watering after fertilization.
Only keep main vine and a side vine with the an axillary bud, remove other axillary bud. Only keep one fruit per vine.
Ready to be harvested when the the rind appear quite clear.
Growing Tips: 
After blooming, can manually pollinate in the morning.
Melon attract pests, may spray enzyme every three to five days, and wrap the fruit with paper.
Thin leaves to make sure ventilation of plants, to avoid mealybug attack.
种植指南
在培养土中挖几个小洞穴,将2-3颗种子直接播种于小洞穴,早晚浇水,让其发芽成长。
当长出3-4片真叶后,拔掉弱苗或疏移太密的苗,让株距30cm左右。
每星期以Baba 532 有机叶面肥追肥一次。植株稍大,施以Baba 426 有机开花结果肥为主。宜将肥料施于离株植10cm-15cm左右,以泥土覆盖。施肥后浇水。
保留主蔓和一根从下数第11-15节长势良好的腋芽(子蔓),摘除其他所有腋芽。一条蔓只留一颗果实。
当果实饱满,网纹形成并清晰浮现,用手轻按瓜脐,如感觉稍软,即可采收。
种植贴士:
为了增加挂果率,开花后可于上午时段进行人工授粉。如果异株授粉,效果更佳。
密瓜容易引来害虫,可每三五天喷撒酵素驱虫。果实也必须以纸包裹。
植株叶子太繁密容易引来粉蚧,应适当疏叶,保持通风。
Cara menanam benih : 
Gali beberapa lubang kecil pada tanah benih
Letakkan 1-2 benih sayur di dalam setiap lubang dan selepasnya melindungkannya dengan pelapisan tanah yang nipis . Siram biji benih dua kali sehari sehingga biji benih bercambah .
Kurangkan anak benih dengan mengeluarkan anak benih yang tidak sihat atau memindahkan anak pokok apabila 3 atau 4 daun bertumbuh. Tinggalkan biji benih yang paling sihat untuk setiap lubang . Tinggalkan jarak 30cm di antara pokok . Bina sistem sokongan untuk tumbuhan tersebut .
Gunakan Baba 532 organic foliage fertilizer setiap minggu apabila saiz tumbuhan menjadi besar. Selain itu , gunakan Baba 426 Organic Fruiting Fertilizer dengan meletakkan baja tersebut berjarak 10-15cm dari tumbuhan , tutup dengan tanah dan menyiram kawasan tersebut .
Tinggalkan cawangan utama dan cawangan sampingan dengan tunas axillary , dan mengeluarkan tunas axillary yang lain . Tinggalkan satu buah untuk satu cawangan sahaja .
Buah akan mencapai keremajaan apabila jaring menjadi jelas .
Tips menuai hasil tanaman :
Selepas bunga memekar, anda boleh menjalankan pendebungaan secara manual pada waktu pagi .
Melon akan tertarik perosak . Semburkan enzyme setiap 3 atau 5 hari dan membungkus buah dengan kertas .
Nipiskan daun untuk memastikan pengudaraan tumbuh dan menghalang serangan mealybug.
Edible Garden Companion 家居菜园良伴