Sowing Tips: VE-001 Coriander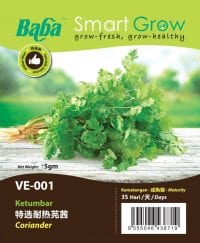 Seed Sowing Guide
Planting
First, fill up planter box with Baba Yasa-I soil or Baba Peat Moss and spread the seeds on top of the soil, then cover with a thin layer of soil. Watering daily until seed germinate.
Before germinate, put it under shaded area. Once there are sprouts, move to area with direct sunlight.
Avoid overcrowded. During the growing of coriander, trim out some seedling which are grow too close. By provide enough space for coriander, you will get bushier and healthier coriander.
Fertilizing
Put Mr. Ganick 532 Organic Leafy fertilizer 1 week after the seed germinate.
And repeat fertilizer step on every week.
Watering
Moist is important for coriander. Make sure soil always moist enough and water when needed.
Water thoroughly on every morning is recommended.
Harvest Tips
Ready to harvest when the plants are slightly larger, or around 35 days or more from the 1st day of planting.
When harvesting, may harvest the whole plant, or use scissors to harvest from the long stems and leaves in turn, let the young leaves continue to grow.
Remaining seeds, could store in fridge and plant in next time, or use as seasoning