Sowing Tips: VE-007 GREEN ROUND AMARANTH / 圆叶苋菜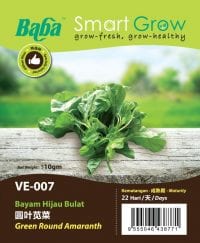 Seed Sowing Guide
Spread some seeds on the soil, and then covered with a thin layer of soil.
Watering twice a day until after germination.
When the seedling grow 2 to 3 true leaves, thin out excess seedlings stage by stage (remove weak and crowded seedlings), keep a 10-15cm gap between plants and the removed seedlings are edible.
Topdressed with Baba 532 organic foliage fertilizer weekly. The fertilizer may put in the middle of two plants, cover with soil. Watering after fertilization.
Ready to be harvested after 22 days.
Harvest Tips: 
When harvesting, may harvest the whole plant, or use scissors to harvest the leaves from the outer layer accordingly.
种植指南
将一小把种子撒播在栽培土上,再覆盖一层栽培土或苗土。
早晚浇水,让其发芽成长。
幼苗长出2-3片叶子后,分阶段间苗(拔掉弱苗或疏移太密的苗),让株距约 10-15 cm,间出来的幼苗可食用。
每星期以Baba 532 有机叶面肥追肥一次。宜将肥料施于两株之间,以泥土覆盖。施肥后浇水。
播种后约22天即可收成。
采收贴士:
采收时,可以整棵采收,也可从外层叶片一片片剪下,分阶段收成。
Cara menanam benih :
Taburkan bjij benih pada tanah benih , selepas itu melindungkan biji benih dengan lapisan tanah yang nipis .
Siram pokok dua kali sehari sehingga biji benih bercambah .
Kurangkan anak benih dengan mengeluarkan anak benih yang tidak sihat apabila 2 atau 3 daun menumbuh , tinggalkan ruang yang berjarak 10-15cm di antara pokok .
Gunakan Baba 532 organic foliage fertilizer setiap minggu dengan cara meletak di antara dua pokok, dan selepas itu tutup dengan tanah dan menyiram kawasan tersebut .
Pokok akan mencapai keremajaan selepas 22 hari .
Tips menuai hasil tanaman :
Pengguna dinasihatkan untuk menuai keseluruhan tumbuhan atau menggunakan gunting untuk menuaikan lapisan daun dari luar ke dalam .
Edible Garden Companion 家居菜园良伴