Sowing Tips: VE-018 F1 LOWLAND CAPSICUM / 平原灯笼椒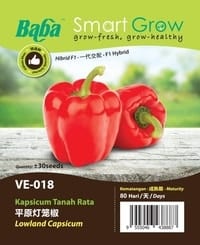 Seed Sowing Guide
Fill up the seedling pot with seedling soil, poke a hole from the soil with finger, pour 2-3 seeds into the hole and then covered with a thin layer of soil.
Place the seedling pots under the shade, watering once a day in the morning. The seeds would be germinated within 9 – 15 days, after that move the seedling pots to the place which expose to sunlight (no direct sunlight).
When the seedlings grow 3 to 4 true leaves, may thin out excess seedlings (remove weak and crowded seedlings).  Prepare to transplant the seedlings into a planting pot with a depth of 30cm or more, leave 30cm gap for each plant.
Top dressed with Mr Ganick 532 Organic Leafy Fertilizer weekly for bigger and healthier leaves; During the blossom period, switch to Mr Ganick 426 Organic Melon Vegetable Fertilizer for bigger and fuller harvest.  Put the fertilizer 10 to 15cm away from plant, cover with soil, watering after fertilization.
Ready to be harvested after 80 days from transplant, when the fruit turns into red.
Growing Tips
Capsicum is easy to attract pests, may apply Mr Ganick Dr Neem oil in the evening after watering, in order to repel insect, twice a week.
Thin leaves to make sure ventilation of plants, to avoid mealybug attack.
The fruit must be wrapped in paper to prevent fruit flies.
May trim off old branches to promote the growth of new branches
Capsicum is a multiple harvested crop, suggested to harvest 2- 3 times.
种植指南
将育苗土装入育苗盆内并整平,然后用手指在泥土按压出一个洞,将2-3 颗种子播种于洞穴里,以泥土覆盖。
育苗盆需放置在通风的阴凉处,每日早上浇水一次。 种子会在9 – 15天内发芽,然后需将育苗盆移到阳光充足的地方(不可直晒)。
当幼苗长出3-4片真叶,需将弱苗拔除或疏移过拥挤的幼苗,然后将幼苗移植到深30cm或以上的种植盆,让每株的距离约为30cm。
每周施放一次的Mr Ganick 532 有机叶面肥,让树身长得健康及茂盛;在即将开花的时期,每周以Mr Ganick 426有机开花结果肥为主追肥一次,让瓜果果实更加肥大。宜将肥料施于离株植10cm-15cm左右,以泥土覆盖,施肥后浇水。
移植后约80天,当果实由青转红满,即可采收。
种植贴士:
灯笼椒容易引来害虫,可在傍晚时分,浇水后,喷撒Mr Ganick Dr Neem苦楝油驱虫,平均每周两次。植株叶子如太繁密容易引来粉蚧,需适当疏叶,保持通风。
果实也必须以纸包裹,以防果蝇攻击果实。
需剪除老枝,促进新枝条生长
灯笼椒属于可多次采收作物,建议可进行2-3采收。
Cara menanam benih
Isikan pasu dengan tanah semaian, tebuk lubang pada tanah dan letakkan 2 – 3 biji benih dalam satu lubang, selepas itu tutupkan dengan lapisan tanah yang nipis.
Letakkan pasu benih di bawah naungan, menyiram 1 kali sehari pada waktu pagi. Biji boleh bercambah dalam 9 – 15 hari, setelah itu pindahkan anak pokok ke tempat yang mencapai cahaya matahari.
Buangkan anak benih yang tidak sihat & kekalkan anak benih yang sihat di mana mengeluarkan 3-4 daun anak benih. Bersedia untuk memindahkan anak benih ke pasu di mana kedalamannya adalah 30cm atau lebih. Selain itu, jarak antara tanaman juga perlu 30 cm.
Gunakan Mr Ganick 532 Baja Organik Daun setiap minggu untuk daun yang lebih besar dan sihat; Semasa mula berbunga, baja perlu tukar ke Mr Ganick 426 Baja Organik Buah untuk mendapat hasil yang lebih besar. Jarak letak baja perlu 10-15cm dari tanaman, tutup dengan tanah dan menyiram tanaman selepas membaja.
Selepas 80 hari, buah akan berubah menjadi merah apabila matang.
Tips penanaman:
Capsicum mudah menarik serangan serangga maka cadang gunakan Mr Ganick Dr Neem pada waktu senja selepas menyiram air, kekerapan dua kali seminggu.
Buah mesti dibungkus dengan kertas untuk mengelakkan lalat buah
Kurangkan kelebatan daun bagi pastikan pengudaraan tumbuhan dan juga menghalang serangan mealybug.
Guntingkan batang pokok yang berusia bagi menggalakkan pertumbuhan batang pokok yang baru.
Tanaman ini boleh dituai banyak kali, mencadangkan untuk menuai 2- 3 kali.
Edible Garden Companion 家居菜园良伴