Sowing Tips: VE-062 GREEN CELERY / 芹菜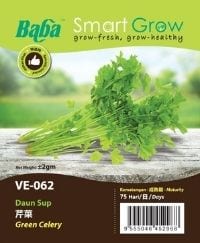 Seed Sowing Guide
Spread some seeds on the seedling soil in nursery pot, and then covered with a thin layer of soil. Keep the pot out of the sun, watering once a day.
Green Celery will be germinated within 5-7 days, move the nursery pot to a place which expose to sunlight (no direct sunlight) after germination.
Top dressed with Mr Ganick 532 Organic Leafy Fertilizer weekly for bigger and healthier leaves. The fertilizer may put in the middle of two plants, cover with soil, then watering after fertilization.
Ready to be harvested after 75 days.
Harvest Tips
When harvesting, may harvest the whole plant, or use scissors to harvest from the long stems and leaves in turn, let the young leaves continue to grow.
Aphids and black spot are the biggest challenge in the planting process of green celery, which need closely observation and treatment for prevention.  May apply Mr Ganick Dr Neem oil in the evening after watering for to prevent the breeding of pests, on average twice a week.
种植指南
在种植盆里,将一小把种子撒播在栽培土上,再覆盖一层栽培土或苗土。将种植盆放置在通风的阴凉处,每日早上浇水一次。
芹菜会在7-15天内发芽,待其发芽后,将种植盆移到阳光充足的地方。
每周以Mr Ganick 532 有机叶面肥追肥一次。宜将肥料施于两株之间,以泥土覆盖。施肥后浇水。
约75天后,随时需要即可采收。
采收贴士
采收时,可以整棵采收,也可用剪刀从长的茎叶依次进行收获,待嫩叶继续长大。
芹菜在种植过程中最容易出现的植株病虫害是蚜虫和黑斑病,需要种植户及时观察处理。可在傍晚时分,喷撒Mr Ganick Dr Neem苦楝油预防害虫的滋生,平均每周两次。
Cara menanam
Isikan bekas pasu dengan tanah, taburkan biji benih pada tanah semaian, selepas itu tutupkan dengan lapisan tanah yang nipis. Letakkan pasu tanaman di kawasan teduh, menyiram 1 kali sehari pada waktu pagi.
Selepas 5-7 hari, biji benih akan bercambah.  Letakkan pasu tanaman di tempat yang mempunyai cahaya matahari selepas benih bercambah.
Gunakan Mr Ganick 532 Baja Organik Daun setiap minggu untuk daun yang lebih besar dan sihat. Jarak letak baja perlu 5-10cm dari tanaman, tutup dengan tanah dan menyiram tanaman selepas membaja.
Pokok akan menjadi matang selepas 75 hari.
 Tips penanaman
Gunakan gunting untuk menuai sayur. Kekalkan daun muda bagi meneruskan pertumbuhan.
Kutu Daun dan bintik hitam adalah cabaran terbesar dalam proses penanaman Daun Sup, di mana perlu pemerhatian dan rawatan yang ketat bagi pencegahan. Gunakan Mr Ganick Dr Neem pada waktu senja selepas menyiram air, nasihat gunakan dua kali seminggu.
Edible Garden Companion 家居菜园良伴