Sowing Tips: VE-063 F1 ASPARAGUS / 高产芦笋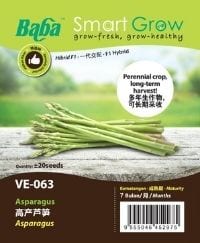 Seed Sowing Guide
Fill up the seedling pot with seedling soil, poke a hole from the soil with finger, pour 1 seed into the hole and then covered with a thin layer of soil.
Place the seedling pots under the shade, watering once a day in the morning. The seeds would be germinated within 7 – 10 days, after that move the seedling pots to a place which expose to sunlight (no direct sunlight).
After 1 month, when the length of seedling reaches 20-25cm, prepare to transplant the seedlings into a planting pot with a depth of 30cm or more, and keep a 20cm distance between plants.
Asparagus grows fast after transplanting, keep the soil ventilated, apply Mr Ganick 532 Organic Leafy Fertilizer weekly for bigger and healthier leaves. Apply the fertilizer between 2 plants, cover with soil, watering after fertilization.
No harvest in the first year after asparagus transplantation.
Asparagus will start to sprout in the following year, but do not harvest yet until 5 branches of Asparagus have grown, and then may harvest Asparagus. Apply Baba Compost-based Fertilizer to increase the fertility of the soil every time after harvesting.
Start from the third year, it is the high-yield period for Asparagus plant. At this period, may harvest when there are three Asparagus branches. The high-yield period can be late for 8 to 12 years.
Growing Tips: 
Suitable to us Ø8.5cm planting pots to grow seedlings.
The soil should not be too wet for all time. Trim branches and leaves regularly for maintenance.  No stand support needed
May apply Mr Ganick Dr Neem oil in the evening after watering, in order to repel insect, twice a week.
Perennial crop, long term harvest
种植指南
将育苗土装入育苗盆内并整平,然后用手指在泥土按压出一个洞,在洞里播放1颗种子,以泥土覆盖。
育苗盆需放置在通风的阴凉处,每日早上浇水一次。 芦笋播种后一般7至10天可以出齐苗,然后需将育苗盆移到日照可到达的地方(不可直晒)。
一个月后,当小苗的高度达到20-25cm的时候,将其移植至深30cm或以上的种植盆,每株的距离约为
芦笋移植后生长速度快,保持土壤干爽,每周施放一次的Mr Ganick 532 有机叶面肥,让树身长得健康及茂盛,宜将肥料施于两株之间,以泥土覆盖,施肥后浇水。
在芦笋移植后的第一年内不采摘芦笋。
次年芦笋会开始萌芽,但先不要采摘芦笋,等到5个枝芽长出来以后,再采摘芦笋。采摘后,需要为芦笋补充Baba有机堆肥土,以提升土壤的肥沃度。
第三年的时候,芦笋进入丰产期,这时候可以只保留三枝芦笋就采摘,丰产期可长达8至12年。
种植贴士:
需采用直径8.5cm种植盆育苗。切记泥土不可过度潮湿,需定期修剪枝叶,不需立支架支撑
在傍晚时分,浇水后,可喷撒Mr Ganick Dr Neem苦楝油,平均每周两次,以达到预防虫害的目的。
属多年生作物,可长期采收
Cara menanam: 
Isikan pasu dengan tanah semaian, tebuk lubang pada tanah dan letakkan 1 biji benih dalam satu lubang, selepas itu tutupkan dengan lapisan tanah yang nipis.
Letakkan pasu benih di kawasan teduh, menyiram 1 kali sehari pada waktu pagi.  Benih akan bercambah dalam masa 7 – 10 hari, setelah itu pindahkan anak benih ke tempat yang mempunyai cahaya matahari.
Setelah 1 bulan, apabila anak benih mencapai panjang 20-25cm, siap sedia untuk pindahkan anak benih ke pasu dengan kedalamannya adalah 30cm atau lebih. Selain itu, jarak antara tanaman juga perlu 20 cm.
Gunakan Mr Ganick 532 Baja Organik Daun setiap minggu untuk daun yang lebih besar dan sihat. Jarak letak baja perlu 10-15cm dari tanaman, tutup dengan tanah dan menyiram tanaman selepas membaja.
Tiada penuaian pada tahun pertama
Asparagus akan mulai berhasil pada tahun berikutnya, tetapi belum tunggu sehingga lima anak Asparagus bercambah, baru boleh mula menuai Asparagus. Campurkan Baba compost-based Baja untuk meningkatkan kesuburan tanah setiap kali selepas penuaian.
Bermula dari tahun ketiga, ini adalah tempoh hasil tinggi untuk tanaman Asparagus. Pada tempoh ini, terdapat penuaian apabila terdapat tiga anak Asparagus. Tempoh hasil adalah panjang selama 8 hingga 12 tahun.
Tips penanaman:
Tanah tidak boleh terlalu basah sepanjang masa. Guntingkan batang pokok dan duan dengan tetap. Tidak perlu membina teralis untuk menyokong
Gunakan Mr Ganick Dr Neem pada waktu senja selepas menyiram air, kekerapan dua kali seminggu untuk menghalau serangga
Tempoh hasil adalah panjang selama 8 hingga 12 tahun.
Edible Garden Companion 家居菜园良伴